First Innovation Tour in Nairobi: Check!
So we did it!

Monday night, after enjoying Nairobi's rush hour traffic jams and Alfred's driving skills, Jean-Paul and Valérie joined Claude and Alina for a first welcome dinner at Osteria. This was our time to exchange first impressions, cozy in the darkness of the evening, and nestled in the walled garden outside the building. These are the first hours in Africa for most of the group. Now to let go of preconceptions and to learn about the real Africa!
Our participants were coming from several different backgrounds: communications in Washington DC, academia, entrepreneurship, and investment. How could we customize one program to match all of their needs? Really, their objectives were the same: to gain an understanding of the local ecosystem in order to pursue potential collaborations or investments. Luckily, everyone present was especially interested in education ventures, so that's where we focused our efforts.
TUESDAY 17th: Let's get started!
The first day was dedicated to exploring the IT ecosystem, since Nairobi is known as the Silicon Savannah. For IT in Nairobi, what's better than the iHUB?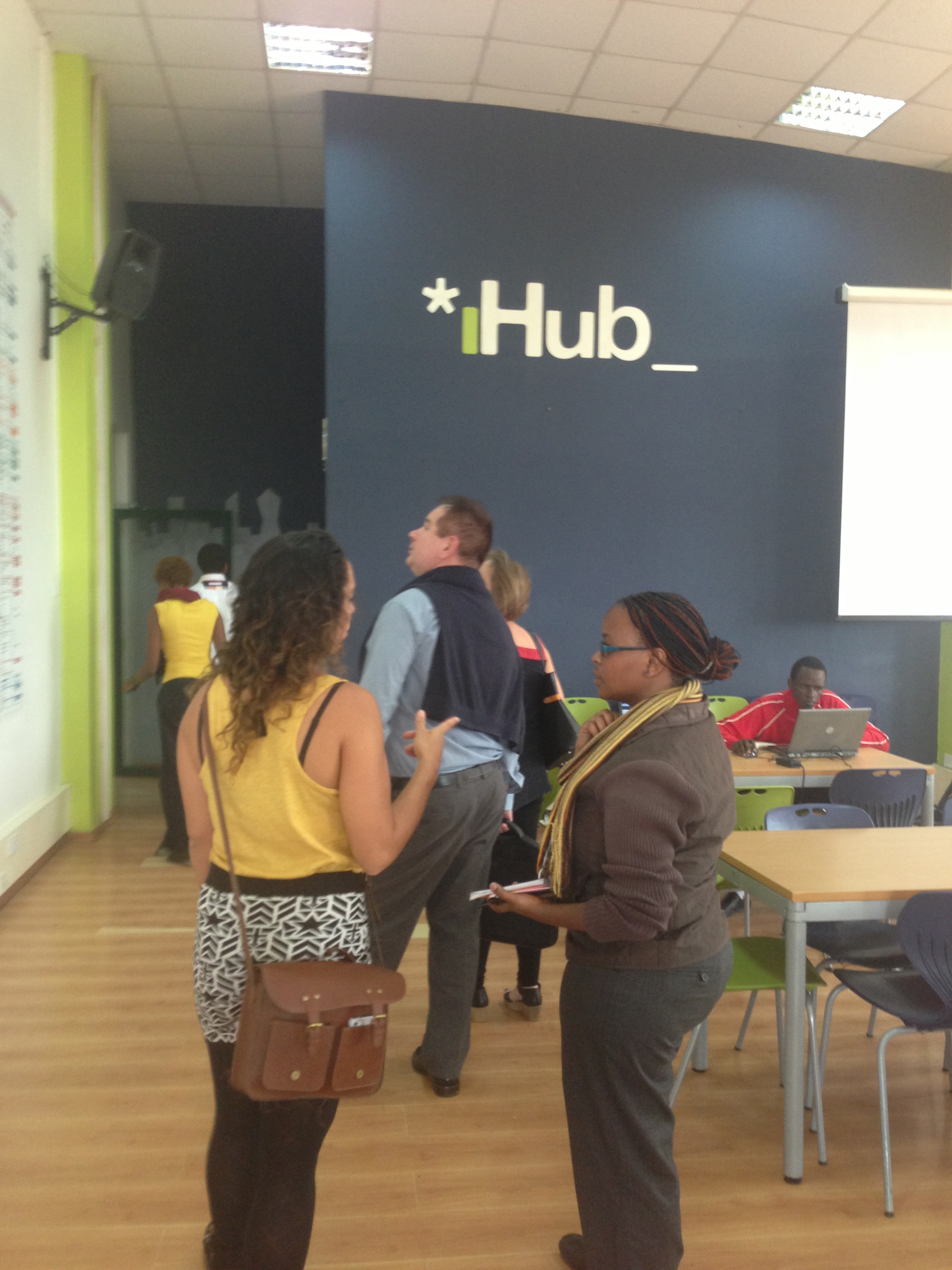 What is the iHUB, you might ask? It is one of the pioneers of Kenya's IT community, initiated by Ushahidi's founders. It has now launched some more specialized organizations like the iHUB Research or the iHUB UX Lab, the latter being the first User Experience (UX) lab in sub-Saharan Africa.
So we headed up to iHUB, where we had a special tour of the building and were briefed about the local context by two very cool local entrepreneurs: Joel Macharia (specialized in finance and IT) and the lively Nanjira Sambuli (blogger, social media specialist, and musician). These two filled our heads with tons of information so that we could all develop a thorough understanding of Kenya's historical and geopolitical context. Some of the highlights of our conversation included:
Kenya being in the eye of the media with some the best athletes in the world, a sitted president heard by the International Court of Justice and, of course, US President Obama's Kenyan heritage.
The role of agriculture in Kenya's economy – 24% of the GDP, 75% of the workforce, but with 90% of all farming being subsistence farming.
Questioning the hype of "Silicon Savannah" – Why all the talk of technology when there are still so many needs in the agriculture sector? Also, Kenya has the young work force and the ideas, but what about specialized managerial and business skills?
How can Kenya develop training programs for its future business leaders?
The difficulties of obtaining funding for private sector ventures. They need investors!
Kenya's key geographical positioning—access to the sea with Mombasa harbor and the doorway to East Africa's many emerging markets—Rwanda, Tanzania, Uganda, Ethiopia.
Naturally, after such a intense first session, we needed to refuel ourselves with some food and caffeine. We had lunch at a great local place called Pete's Coffee, where we enjoyed some of the best coffee in the country!
Feeling refreshed and ready to crack on, we met Victoria, Ilana, and Francis from the GSMA team, who enlightened us about cutting edge tech trends in East Africa. If you are surprised by the phrase "tech trends in East Africa", you're missing o
ut! There is so much innovation going on in Africa, and especially in Nairobi. The GSMA team told us all about their worldwide network of mobile operators who runs the Mobile World Congress in Barcelona, and who has set up an Africa office in Nairobi. We learned A LOT from the GSMA team:
After this enlightening session, we needed a change of pace and scenery. We had a quick chat with Sam Wakoba, founder of the well-known Techmoran blog. His objective: to share the real stories of entrepreneurs. His blog spots tech trends and shares the personal stories of African's most promising tech entrepreneurs.
From there, we hopped over to Nailab, a startup accelerator that offers highly structured mentorship and guidance to early stage business ideas that are likely to have a large social and economic impact, are scalable, require minimum investments to prototype, and have a strong value proposition. By forming strategic partnerships, offering access to investors, and providing business advice, Nailab has been able to help over 10 startups in two years, with high success rates!
On our way out of the Nailab, we bumped into the founder of UpStartAfrica, a business reality TV show for Kenya's entrepreneurs. Their goal is to bring a "cool and fun factor" to technology and entrepreneurship, and to inspire young people across Africa to take up technology and entrepreneurship as a viable alternative to traditional job seeking!
At the end of the day, we were exhausted but exhilarated, rain was pouring, and we did not want to get stuck in traffic, so we hung out at the nearby Brew Bistro and listened to some great local bands there. What a great way to end the day.
Our second day was focused on the social business world, which has a strong presence in most emerging countries. This sector is vital in Kenya, as 46% of the population live below the poverty line and 3.9 million people reside in slums.
We started this journey sharing a coffee with the Young Women Social Entrepreneurs Nairobi that are causing positive change at the Base of the Pyramid like Aparna Shrivastava of WASH United, and Melissa Menke of Access Afya. WASH United uses sports to educate about good hygiene practices, and Afya provides healthcare services in the slums. Great chat!
After breakfast we headed to the ASHOKA East Africa office where Peris Wakesho organized a great gathering for us! Here's what happened:
We met Fredrick Ouko, Ashoka fellow from Action Network for the Disabled, working with different private companies to show them the potential benefits of hiring disabled staff.
Pauline Wanja told us the story of Living in a Shanty Town, which offers business consulting to small entrepreneurs in the slums.
We were impressed by the young talents Ashoka is mentoring like Ian Mati, from Wipe A Tear Foundation, who, at only age 17 organizes sessions within orphanages, and David from Dagoretti Youth Developers, who use magnetic theater to help prevent young people from dropping out of school and to transmit messages within the community.
Peris told us how Ashoka was trying to change the ecosystem as a whole, working directly with employers to adapt to changemakers and intrapreneurs in their staff and working with schools to change the rating system and integrate social skills such as leadership, empathy, teamwork, entrepreneurship. So inspiring!
After getting to know some of Nairobi's most ambitious social entrepreneurs and learning about the general Base of Pyramid environment in Nairobi, it was time to hop back in the car with Alfred!
The day wasn't over yet! We sped over to the Strathmore Business School for a meeting with John Matogo, who introduced us to the Ilab entrepreneurs. This awesome tech incubator was estab­lished in January 2011 in collaboration
with Safaricom (Kenya's largest telephone operator) to spear­head research, innov­a­tion and entre­pren­eur­ship in the ICT field. @iBizAfrica, the busi­ness incub­ator department, provides a nur­tur­ing envir­on­ment that builds on the poten­tial of the youth to develop ICT solu­tions and busi­nesses that work for the com­mon good in soci­ety. Here, we were lucky to meet the developers of TiCHAA, an application to teach Swahili in a very colorful and user-friendly interface.
After these m
eetings, we stayed with the topics of incubators and education. We went to MLAB, an incubator set up by Infodev, where we met the Eneza Education team, who are using simple mobile phones to make education accesible in rural areas. You might wonder exactly how that could be possible.
Eneza is offering tests via SMS to prepare students for exams that are vital to their continuation to high school and college.
Then teachers follow their students' progress online.
They currently have 85,000 users and substantial funding. Their challenge now is product testing!
After MLAB, we were able to squeeze in one more activity—and it was worth it! We got to attend the ACUMEN presentations of the applicants to the East Africa Fellowship program. The objective of this patient capital organization set up by Jacqueline Novogratz is to support a new generation of East African leaders willing to challenge broken systems and develop new, inclusive solutions to create impact.
We did some networking activities after the presentations, and we met the lovely Kate, cofounder of Shopsoko, who is interested in joining the fellowship program. We're sure that she would be an amazing fellow!
After such a long, intense day, we enjoyed our well-deserved dinner at a wonderful Indian restaurant in Open House.
THURSDAY 19th: What about investment?
The third day was more focused on Investors and the venture capital situation in East Africa. What are the real challenges, opportunities, and legislative constraints? What is impact investing? How do you measure it? Many questions best answered by the local stakeholders themselves!
Early morning, Hannah
Clifford welcomed us at the bright and inspiring  88mph– incubator that overlooks Ngong road. (The name comes from Back to the Future movie, hence the Delaurian at the entrance!).
She told us how they provide early-stage web/mobile companies with up to $100K in funding through their 3-month startup accelerator program. This private seed fund with vibrant work spaces in Nairobi and Cape Town has already hosted 2 rounds in Kenya and 1 in Cape Town, and has supported 21 entrepreneurs so far.
Two of their entrepreneurs, Kyai Mullei and Dave Mark, explained their venture MChanga to us:
With Kenya's growth, there is more disposable income that can be spent on community issues like education, weddings, and funerals. There is no formal social safety net, so all the donations are informal, in cash.
And since, culturally, it is an obligation to support your family up to your ability in Africa, their product works with mobile money to leverage this culture and crowdfund for these community issues.
Everyone from the Innovation Tour bought a local SIM card, and initiated their Mpesa accounts to be able to send money to each other, and we experimented with the product. We had fun setting up a fundraiser for Nathalie's birthday, and we all contributed to it!
After our bit of fun, Lino Carcoforo, an investor from Innovate 4 Africa, (which supports Mchanga) joined the conversation. He told us how the biggest challenge was finding the right entrepreneurs and being hands-on enough with their projects. Innovate 4 Africa started with 50,000 USD and developed Mkazi and Mchanga. They are now setting up a $10 million fund to address the need to fill the gap between seed funding and large investments above $250k.
With our heads buzzing with information, we decided to take a quick shopping break. First we saw the awesome local fashion brand Chillimango, and then we took a trip to the Maasai Market at Junction mall to buy a few souvenirs!
At 2pm it was time to get back to work—the Sharks were ready for our shark tank! With the iHUB team (Jessica Colacao and Anne Salim), we actually decided to set up a fun session, inspired by the reality TV show Dragon's Den or Shark Tank. Following the model of the show, 5 early stage ventures in the education field had 5 minutes to present their pitch to 4-5 potential investors (aka, sharks) who will then assess their ideas and decide whether or not to invest in/mentor the startups.
We set up the stage in the iHUB UX lab room. Claude, Jean-Paul, and Alina from the tour joined Lino onstage—our sharks were ready!
The entrepreneurs who were swimming with the sharks were:
At the beginning of the session, the sharks were going easy on the entrepreneurs…but as time went on, they got bloodthirsty!
But Janet, our last pitch, conquered the jury with her clear and scalable model. Lino proposed to host her and to mentor her and Jean-Paul gave her precious advice on her business plan. Business cards were exchanged. It looks like a possible investment could be underway…
After yet another long, intense day, we popped over to the Tree House for a concert where we met Samir and Charles who told us about Sunculture, their solar powered irrigation system that combines cost-effective solar-pumping technology with a high-efficiency drip irrigation system to help farmers grow more while spending less.
That was enough business—we spent the evening enjoying the music!

FRIDAY 20th: Let's meet the youth!
With our ears still ringing from the night before, we woke up for our last day! This was the day for the really fun stuff—youth projects, slum activism, artists…the misfits.
We went to the inspiring Pawa254. The name is a play on words, inspired by the word "power" and Kenya's telephone country code, 254. This is a coworking space for photographers and graffiti artists started by the now famous Boniface Mwangi, TED Fellow. It has a super cool vibe and offers amazing views of the Central Business District.
We also had the pleasure of meeting Frederick Odol, local TEDx curator and president of Network for Youth Advocacy Kenya. He told us his story about the post-electoral violence in 2007 and how his network of young people was fighting to have the new constitution truly implemented. Watch the documentary here.
This story put us in the right frame of mind to visit Kibera, the largest slum in Nairobi, and the largest urban slum in Africa, with over 500,000 people. The life expectancy there is estimated to be 30 years of age, compared to 54.2 years in the rest of Kenya.
It's true that these statistics are alarming. And seeing slumlife firsthand has an impact on your heart and soul. However, the feeling that you walk away with is not despair. It's hope, energy, and optimism. These are the overwhelming forces in the slums of Nairobi. People aren't defeated. They are creative and resourceful.  (Click here to see a project by artist JR called Women are Heroes, which features Kibera.)
It was here that we met the team of Hot Sun Film School and Masai Mbili, who told us how they were fostering creatity in young people in the poorest places.
Nathan Collett, for example, implemented a hybrid system in which Hot Sun Productions (which makes for profit movies) funds Kibera TV and Hot Sun film school, where 12 carefully selected students are trained for 5 months in film production. 60% of the graduates actually work afterwards in the film industry, and they are opening a new school in the outskirts of Nairobi. Masai Mbili, on the other hand, is a community based artist group that was started in 2001, by two artists Otieno Gomba and Otieno Kota, who initially worked as sign writers in Kibera.
After meeting these inspiring artists and having a stroll around the streets of Kibera, we had lunch at the Ecozoom office. We even got to test the charcoal and fire cooking stoves. The Ecozoom team showed us how their stoves are more efficient and cleaner than traditional stoves. So far, the company has sold 90,000 stoves in 14 countries. The cost is only $35, and the positive effects of switching to an Ecozoom stove are immense. The efficient stoves save money on fuel, lessen environmental impact, and are much more favorable for the user's health. Cooking with traditional charcoal or firewood stove is actually like smoking 2 packs of cigarettes a day, and more than 3 billion people in the world are still using them daily. Furthermore, traditional fuels are expensive! A household in an emerging country can spend up to 30% of their income on energy, compared with only 2% in the US. Products like Ecozoom stoves can help to improve the lives of those at the base of the pyramid by answering an essential market need.
We were ready to switch gears again! We joined the Hackathon of Innovate Kenya at Storymoja Hay Festival, the largest literary event in East Africa.
Jacob was asking 150 young students from different high schools which community problems they would like to tackle, how they would do it, and which project they would set up. We were amazed by the creativity and energy these youths.
Chief Nyamweya from Kenya Noir was there, the fantastic comic book writer who is releasing his new cartoon, the Hands Off Our Elephants campaign, and is head of "the African Pixar" Tsunami Studio.
After a 4-day whirlwind, the end of the trip had arrived! Our heads were full to the brim with so many new ideas, contacts, and potential collaboration. Even though some of the group were lucky enough to travel to  Zanzibar or go on safari in the Masai Mara the next day, we were all already thinking of the next steps and how to follow up with our potential collaborations. Why not return in the next few months to strengthen these new relationships, to dive deeper into the Nairobi Innovation ecosystem, and to become even more connected with this beautiful city? 
We at The A Factor feel an overwhelming sense of gratitude toward our friends and colleagues in Nairobi. Thank you to everyone who shared their time and expertise with us, thereby making this Innovation Tour possible. We couldn't have done it without you!
 …
We would like to give our condolences and express our sadness for our friends who have been affected by the attack on the Westgate Mall. We are with you in spirit.

Uncategorized